Secure Healthcare Communication
Secured Chat, Messaging, and Remote Appointments
Movendos mClinic enables fluent services both to the healthcare customers and professionals. Customers get easy access to services, from any location and at any time. Professionals get easy to use tools and new possibilities for doing their work. 
The service is a secure communication channel for all external and internal messaging, branded to the needs of the service provider. Movendos mClinic enables both urgent and non-urgent chat and messaging, also to the healthcare customer's named contact person. Communication is possible with video calls, chat, or non-urgent messaging, depending on the need.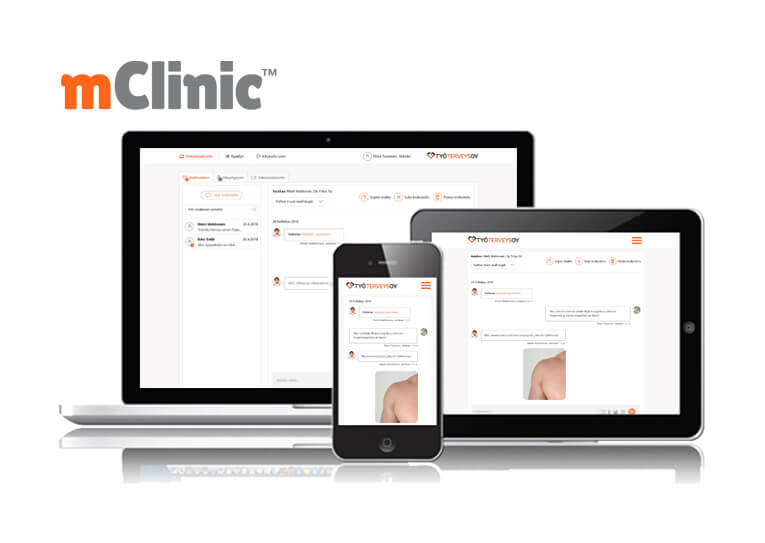 Communication from any place at any time
Chat with a doctor, nurse, or any healthcare professional. Enables care need assessment, guiding to right services and the remote care process itself.

Video appointment
Video appointments based on time reservation or fluent moving from chat to a video appointment.

Tailorable
The service can be branded and tailored to meet the needs of the healthcare service provider.
Secure service
The service meets the official data security requirements. The cloud service utilizes strong identification and is audited by an external party and updated regularly.

Urgent care queue
Need and symptom-based urgent care queue speeds up and optimizes customer service.

Multiprofessional team and responsible contact persons
The non-urgent messaging can be directed to the responsible contact person of the healthcare customer. It's also easy to add other healthcare professionals to the conversation when needed.

Integrated to electronic health records
With integration to electronic health records the information and data of both healthcare customers and professionals and user rights are constantly up to date. No separate management of usernames.

Fluent and easy to use
Easy to access and use with any device. Designed especially for mobile use.