Solution for Health and Wellbeing Screening and Surveys
Movendos mSurvey is a vast screening and survey service for example companies, occupational health care and rehabilitation. Movendos mSurvey can be used for multiple purposes as a separate solution or integrated in other systems. It enables targeted and tailored surveys based on the needs of the target group or individuals. Examples of the holistic and evolving survey contents are sleep, nutrition, activity, life balance, wellbeing at work, quality of life, health status and risks, work related exposures, motivation and readiness for change, customer satisfaction and many many more.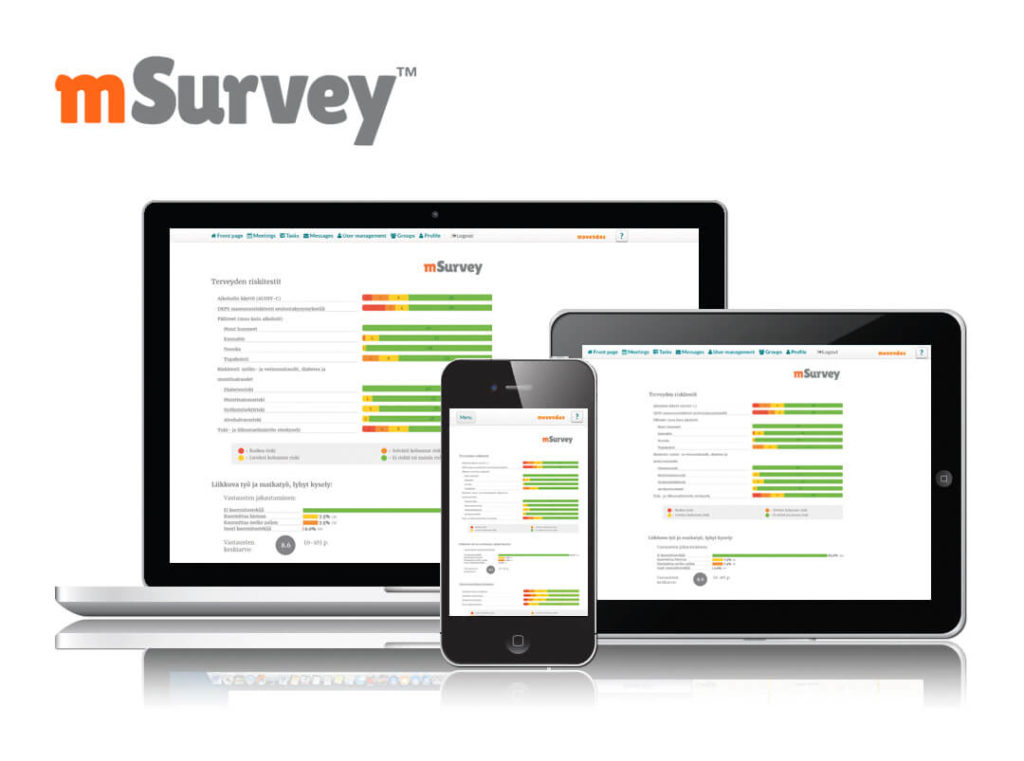 Suitable for Multiple Purposes

Comprehensive Content
of High Quality
The content is developed together with health care professionals and it is constantly extending based on needs. Health contents are based on scientifically validated methods.

Tailorable
The survey content modules can be selected for each separate survey and also tailored module contents can be ordered. Language options are English, Swedish and Finnish.

Easy to Use
The individual invitations are easy to send and a common survey link can be shared through any selected channel.

Clear Reporting
Automatic and clear reports for individuals or groups and risk measurements in a visual form. All data in one place, also raw data available for further handling.

Fluent Part of Service
Easy to integrate in other service processes, always tailored with the logo and visual features of the service provider.

Easy to Respond
Easy to respond with any device, also in mobile. A visual individual report can be downloaded immediately after responding.
Secured Cloud Service
Secured connection and new updates always automatically available.

Fair Pricing
The pricing is always based on the selected annual license and the amount of survey responses.