Flexible Remote Coaching Tool
Flexible Remote Coaching Tool
Movendos mCoach is an easy-to-use and secure remote coaching tool. It is an ideal solution for health care, rehabilitation and career coaching professionals. The coaching content can be tailored based on the professional's background and customer needs. The content can relate to any aspect of life like life and stress management, sleep, activity, nutrition, mental balance improvement and social relationships.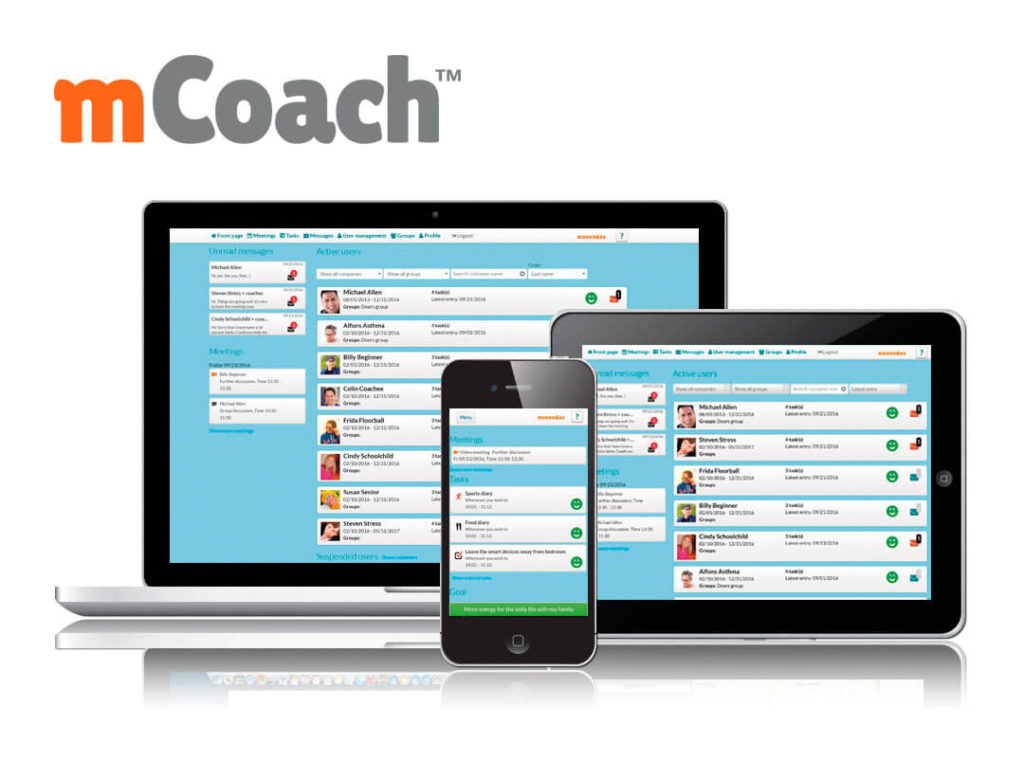 The Allergy, Skin and Asthma Association has started implementing distance courses to support people with asthma. There is a clear need for organizational activities that are independent of time and place. When it includes support from a professional and weaves with peer support, the package will best serve the participant. Movendos mCoach has been easy for instructors and participants to use. The playfulness of the platform has obliged participants to do tasks on a regular basis. Cooperation with Movendos has been smooth. Whatever we ask, the answer comes quickly. "
– Anu Sauliala, Allergy, Skin and Asthma Association

Lengthen and deepen your customer relationships by combining remote coaching to video meetings or face-to-face coaching. Remote coaching is an effective way to enhance the effectiveness of coaching.

Adopting new habits is easier, when the change is brought in as a natural part of the daily life and life situation. Remote coaching between the meetings brings more motivation and coach presence for the customer. Following the progress is easy and support available when needed.

Our fully tailorable coaching tasks make big changes to happen, with small steps. Our remote coaching technology is based on solid theoretical background from the health and behavioral sciences.

Personalised coaching programs
Coaching programs can be tailored according to the situation and need. Following of the progress is easy and all coaching data is accessible from the same place. Notifications are available.
Secure communication
All communication and content is protected. Service is designed according to the best privacy and security practices and the EU medical device directive. Privacy is maintained also in group coaching.

Versatile content library
Use the easy-to-use content editor to create coaching content and build up your own coaching task library, related to any areas of holistic wellbeing. Add images, videos, links and attachments.

Individual and group coaching
mCoach enables personalized coaching programs tailored according to the need and situation, both for individuals and for groups. Peer support possible in group conversation.

Easy to use secured video call
Cost-efficient and secured online video appointments with easy-to-use, fully integrated video telephony. Use directly from web browser without additional software installations or user accounts.

Multiprofessional coaching team
Individual customers and groups can have several coaches at the same time, creating multiprofessional expert team.

Surveys and measures
Combine Movendos mSurvey health and wellness questionnaires, surveys and measures to your coaching.

Use with any device
Use mCoach with all popular web browsers in computers, tablets and smartphones. Speed up daily usage with smart phone applications available for the Android and Apple devices.

Flexible cloud service
All the latest updates to the service are automatically available for our customers.

Fair pricing
mCoach licence fee is based on a decent monthly fee and on the amount of active coaching customers